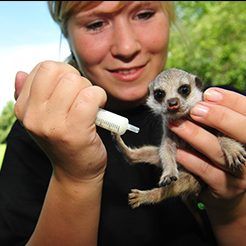 Meet the Meerkats
An unforgettable experience for all!
Fur that purrfect gift, or a really wild encounter for yourself, meeting the meerkats is an unforgettable experience for all! Get closer to nature and learn all about these loveable critters up close, whilst feeding them their favourite treats. All proceeds raised through your generous purchase of any experience at Hanwell Zoo goes directly to our upkeep, education and conservation programmes, so here's a big THANK YOU in advance!
To keep our mob healthy, in tip top condition and in their routine, only one experience is available per day at 12 noon, so book early to avoid disappointment. Your time with the meerkats will last around 20 minutes, and you will be guided by one of our keepers who will be able to tell you everything you will need to know about meerkats, their diets and habitat.
The experience costs:   
£35 for one person
£60 for two people
£90 for three people
£120 for four people
Don't forget to bring your camera, for some awesome meerkats selfies! And be sure to wear sensible shoes and long trousers that you don't mind getting a little dirty. The minimum age for this experience is 5 years old. Our experiences may not be suitable for all, if you have any concerns, please call us before booking.
Please click here to read our Terms and Conditions – before booking
Enquire now